In a National Library of Medicine and NIH study Drs. Parsons and Kearns used a
stethoscope with 2 heads to rule out aspiration of foreign bodies by small children*.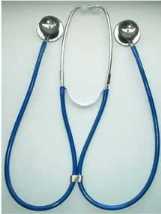 2 DUAL bell and diaphragm adult size stethoscope heads, each on a separate tube allow one head to be placed at 2 different points on the body.
Chromed-brass binaurals with a heavy-weight chromed brass dual head on each tube for best high frequency sensitivity.
Mushroom and regular earpieces. Non-chill ring on each bell, the flip over mechanism is ball-bearing for smooth action and tough durability.
In addition to the Pediatric ENT use, this special stethoscope helps assess asthma, pneumonia, pneumothorax, bronchitis, atelectasis, and post operative ventilation status.
ONLY $15.00
It appears we have another page for this. Click here to see the other one.
*. A link to the originial study using 2 headed stethoscope.